Entertainment-
Give the gift of entertainment as you snuggle with your loved one in front of the fire, or your whole family. Choose from a variety of genre's including a love story, drama, or action. Love and Suicide was shot in Cuba by American filmmakers. It is beautifully haunting the way the filmmakers take you on a up close journey through private homes, and little café's, in a part of Havana, Cuba that big studio films are never allowed to do. It is about a man who goes to Cuba and discovers the one thing between love and suicide. Many awards and nominations and has traveled the international film circuit. Beautiful Cuban music.
PG 13 Love and Suicide
Or how about a drama? Set in Georgia this dark, but intriguing film, follows the story of lives intertwining in a small southern town. Secrets are revealed, as we see families come together and be torn apart by love, deceit, abuse, and racism. The Unseen. A cult classic. Rated R. The Unseen
Or how about an action packed film with hip-hop music, educational film set in streets of New York? The story of a female rapper inspired by the stories of Anne Frank. Independent Spirit Award nominated twice, plus many festivals, awards, including internationally. Anne Frank. Rated PG (You will be inspired by this film, so stop by the Anne Frank Store. )
Resistance Training Weight Loss DVD 4 Pack-
A revolutionary way to lose weight. What makes this DVD set different is the fact that you are being educated by Dr. Paul Kennedy, A certified resistance training coach, and strength coach at Penn State and Rutgers University. This training is for men and women. Read one success story of a mother, after five children and two sections later; lose 50 lbs and did a lingerie run way show on the WE Channel. Recipes for proper nutritional meals, questions and answers plus much more. Many satisfied people have reported weight loss, and the best part…your extra weight comes off fast, you get toned, you feel great, and it lasts!! The Kennedy System. See story here. Success story
For the Goddess women or mother in your life-
Nothing makes a woman feel more beautiful than by giving her a Goddess gift, letting her know that is who she is to you. Choose from a variety of beautiful tonics, lotions, potions, jewelry, clothes, books, and more. Imagine harps, and enchanted forests with beautiful Goddess trinkets and fragrances to carry any woman into her personal Goddess fantasy. Goddess Store
Exotic Teas, Fine Chocolate, and Rich Coffees-
Indulge your senses with the aroma of rich, dark African coffee, or creamy chocolate truffles. Or how about spicy, tangy teas that engulf your mouth? This is where Chocolate Lovers unite with Coffee connoisseurs from around the world, merging with exotic teas and spices. This is for your friend or loved one who has a taste for the 'finer things in life'. The Cooking Show
Children's Books-
There is not a child out there that does not like to look at pictures, or read a good children's book. Children are fascinated with the stories of Goodnight Moon, The Wheels on A Bus, My Rows and Piles of Coins, or Seven Day Magic. These books are sure to please with award winning illustrations, and charming stories to delight even the most bored child. Let their imaginations run wild as you browse through hundreds of selections.
For the Adult reader-How to beat the economic crisis-
This is a guarantee mood lifter. Give your loved one, or friend the gift of growth, as they learn the secrets of the billionaires and the minds of the financial geniuses behind them. Hundred's of title to choose from, you can custom pick the book that suits every financial crisis or situation. Genius Money Books
Gift of Green,"Eco Gifts"-
With the trends moving into green city standards, and eco-solutions, you will hit the mark with organic, natural, and eco friendly products for baby, families, home, and garden. Everything under the sun can come in an environmentally friendly product. Why not give the gift of green, and start browsing through a collection of unique eco products?
Mommy time!
Know a deserving, hard working mommy? Or a mommy-to-be? Choose from facial creams, clothing, fragrances, shoes, hair products, jewelry, teas, and more! Pamper and sooth those tired hands and feet, or give her a stylish pair of jeans, or shoes to go with that amazing belt. This is your one stop shop! Thank God For Mommy
Calling all Latin Lovers-
Love Salsa, meringue, or Cuban music? Have a thing for cigars, and Latin books, films, and Latin Jazz? This is your place. Get lost in the romance, and desire of the Latin lovers in your life. Give the gift of the spirit of the people. Choose from artist around the world, offering you an eclectic choice of artistic beauty.
Native American Spirit-
There's nothing more soothing or beautiful than Native American flute music, or a spiritual journey of a Native American experience of life. Enjoy Native American jewelry, exquisite pieces of gems, and warm, fuzzy boots can warm up any cool night. Native American Spirit
Obama Corner-
There are so many wonderful Obama stores to choose from, where do you find everything in one stop?
From books, to t-shirts, stickers, even a life size cut out of Barack himself?
Look no further, here are a few of the best Obama stores that offer that latest,
greatest and unique Obama goodies.
The University of Obama Official store
Tranquility and Healing
You may know someone who needs some TLC, and needs soothing gifts. Warm teas, fuzzy socks, healing books. Maybe some quiet music. This is the place to be. You will find everything and anything to heal the spirit and body. Soothing & Healing Support
Ever tried shopping for that person on your list who doesn't seem to need or want anything? It's a lesson in frustration for sure. But what if you were to think of what they most would love to give and give them that? Maybe something that is not for them but that they can give. This good Christmas gift idea is for just that person. Someone who has a heart for the poor and hungry in our world.
It happens every year, finding that gift for the person(s) on your list who have all they want. Here is a good Christmas gift idea - let them be the gift giver (via you) by helping someone else.
The United Nations World Food Programme has come up with a way to help hungry kids by raising money for food to feed them. The gift is The FEED bag. We all know the devastation that hunger is taking on worldwide health, more than either other disease. Sadly, every 5 seconds, hunger ends another life of a child.
Each FEED bag sold will provide a school year of meals for one child in need and give them the hope of an education and a regular meal.
Using the gift FEED bag in work, school, play, or while they shop, your special person will feel the satisfaction of knowing they are helping a child. The tote will also be a way into sharing this opportunity with others.
What a great gift for someone who has everything - the gift of life!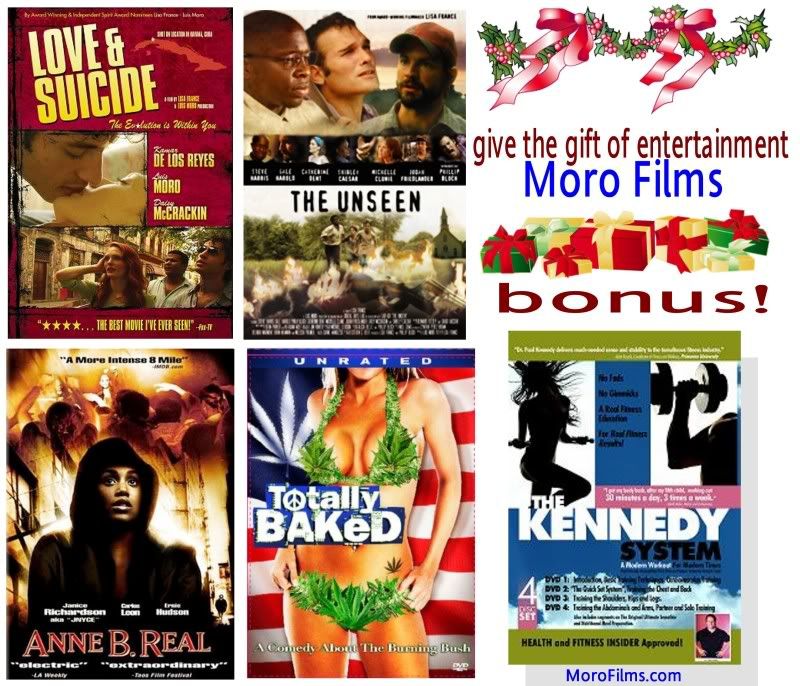 http://MoroFilms.com